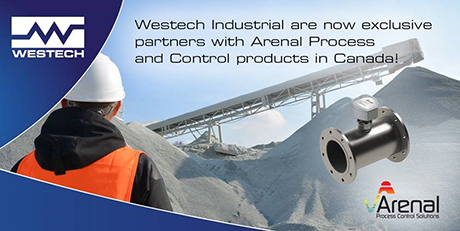 Arenal PCS is pleased to announce that Westech Industrial Ltd., effective immediately, is our new exclusive Canadian representative. The company is a leading supplier of analytical instrumentation and process control equipment to a wide variety of industries. In 2016 Westech celebrated a remarkable milestone of 50 years in business, in which they have developed a reputation as the source for quality solutions and superior customer service.
Westech is dedicated to servicing the market with the next-generation of analytical solutions and state-of-the-art process analyzers. Arenal's innovative non-nuclear Slurry Density & Massflow Analyzers fits perfectly into Westech's concept and offers the mining industry a highly accurate, safer and more sustainable process control solution.
Arenal PCS and Westech will be presenting the Ultrasonic Slurry Density and Massflow technology during the MEMO 2019 Conference which will be held from October 20 until 23, 2019, in Kamloops BC.
For more information on Arenal's range of products please contact Westech Industrial at 1-800-912-9262 or go to the Westech website.