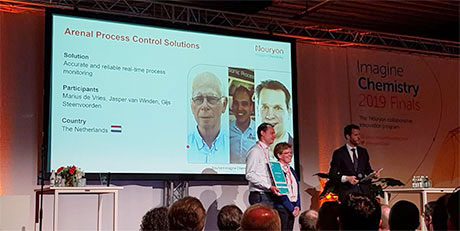 Deventer, May 25, 2019, Arenal was awarded a chemical research price at the 2019 Nouryon Imagine Chemistry Challenge.
After 3 days of intensive discussions with various expert about a suitable concept for a new technology ultrasonic sensor to control and optimize many production processes. It will be a modified product from our ceramic slurry density analyzer, currently replacing radioactive analyzers in the mining industry. With the new sensor in development we measure multiple physical properties of the chemicals, of which density and concentration of suspended and dissolved solids. Nouryon and us are really excited about this development and we look forward to the further cooperation!
The excitement reminds me of a trip to Costa Rica about 14 years ago. We had tours in the rain forests with all their beautiful butterflies, insects, turtles and colorful frogs. The sun was burning on our skin while the trip ended at a volcano, next to a beautiful lake. That night at the open restaurant in the outside terrace at the foot of the volcano we enjoyed the food, while suddenly we heard some rumbling noise and looked up the volcano where glowing red lava stones rolled down the hill.
All elements and colors came together: blue water, green earth, yellow sun and red lava. Very impressive all!
During the days at Nouryon I had a similar feeling. The Nouryon team really impressed me by its accurate timing, excellent content of the program, superb expert and mentor sessions, great food experiences, beautiful walking tours for relaxation in Deventer, the nice weather and great people! Ourselves we formed a team to support Nouryon with all their questions and to determine the best product-market combination for the chemical industry, with all its variations. Winning this award in a setup where all the elements are brought together is exiting and emotional at the same time.
So such feeling brought me back in memory to this active volcano Arenal.
With our company Arenal we want to bring similar exiting experiences, in the form of measuring and control equipment. That is obviously only possible when all elements come together at the same time, in the foundation of our company. Comparable with the trunk of the tree in which dedicated and specialized persons work together in a team to grow themselves and the company to unlimited heights.
At Nouryon, we opened a new branch to the chemical industry and we hope to feed all customers in this market with exiting innovative products.
I like to thank the Nouryon team, especially Peter and Joan, and the rest of the Arenal team, especially Gijs and Jasper, for sharing this experience!
Marius de Vries, CEO